Why an Opportunity Tax Franchise?
Be In Business For Yourself, Not By Yourself
An OTIS Franchise is a Great Way to Be in Business for Yourself, but Not By Yourself
There are many factors to take into account when deciding if you should invest in a franchise. If you have the desire to be in business for yourself, but not by yourself, then a franchise is a great choice. Below are the some of the benefits of owning a franchise:
Franchisor Support is of the Utmost Importance
Many people invest their hard-earned cash into a franchise because of the ongoing support provided by the franchisor. The franchise that you choose is not only going to be there in the beginning, but also for as long as you own your franchise. With a strong corporate executive team supporting your business, running a franchise can be very rewarding.


Products and Services will be the Key to Franchise Success
Select a product or service that is going to withstand a downturn in the economy. A successful franchise will have a recession-proof business model that will give you more confidence in owning your own business.


Marketing and Advertising Packages
A good franchise will offer local and corporate level marketing support. They should also provide you with a marketing package and suggestions for on-the-ground marketing, as well as continuing marketing programs to help you be more successful in the future.


Available Territories
Younger franchises offer a good opportunity for very desirable franchise territories. A good franchisor will help you understand your customer demographic and select great locations.
Top Reasons to Buy a Franchise








Investment in Your Future
Frequently Asked Questions
Can I own more than one store?
Yes! Opportunity Tax Service's low-cost start up enables franchisees to own multiple units or multiple territories to continue expanding their business. There are no initial fees for a territory's second location—that's like getting two for the price of one! Be sure to discuss this option with your Franchise Development Director.
What type of qualifications or experience do you look for in potential OTIS franchisees?
NO TAX EXPERIENCE REQUIRED. We are looking for individuals with experience in management, marketing and sales. We look for individuals with the goal of managing and growing their own business as well as those who want to be in charge of their future and enjoy working in a business-to-consumer environment.

What type of training is provided?
With OTIS, you're in business for yourself, but not by yourself. We offer a training program to outline every aspect of becoming a new franchisee. Comprehensive Operations Training is held at our corporate headquarters, Hands-On Training is held in the field and ongoing training and support is provided throughout the year as needed.

How long does it to take to become a franchisee?
You can expect approximately 60 days to pass between the time that you meet with a franchise development director and the time you sign your Franchise Agreement.

Do I have to quit my job?
No! One of the many great things about OTIS is that you can choose to be an absentee, semi-absentee or a hands-on owner of one of our franchises. This Opportunity could be a vehicle for retirement, an additional income for you and your family or a way to diversify your business holdings. We are always here to support you and your management team.

What type of advertising & marketing strategies are in place?
A very important part of this franchise concept is marketing. OTIS marketing staff members work with each franchisee for individualized support and development; we also work with a marketing firm, which will provide market research for each location. An individualized grand opening plan, continuing marketing plan and individualized collateral material will be presented and available for each location.

Can I convert my existing tax prep business?
Absolutely! Any independent operator that provides individual tax returns can convert to an OTIS franchise. We believe that diversification is crucial and the many channels of revenue that we provide create a year-round presence for your business, which can contribute to the continual growth of your top and bottom line.

What is the total investment?
The total investment needed to begin your OTIS franchise is approximately $65,000-$75,000, which includes the initial franchise fee.
INTERESTED IN OWNING A FRANCHISE?
• SUCCEED WITH ONGOING SUPPORT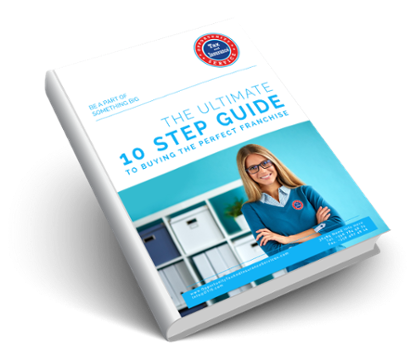 Download our Ultimate 10 Step Guide to Buying the Perfect Franchise
This guide provides steps on everything you need to know about evaluating, selecting, qualifying, training, picking a location, staffing and on-going support for running your perfect franchise.